Snaps
I haven't neglected the life list! Everything is on-going, ya know, full steam ahead and all that. It's just that…much of this list is so expense-heavy that most of my time is spent saving the money to do these things, or planning them, or daydreaming about them. Thank god I'm still making those bloody pizzas.
Thanks to The Great Brain Fart of 2012, I managed to inadvertently check off one item on the list: Get a new camera (specifically the d7000).  Wahoo! Success by accident is the best kind of success.
Having a fancy camera hasn't improved my crap photos one bit but it has inspired me to try harder. In the meantime you should follow me on instagram @arleneivana. Are you aware of any way to link directly to my instagram profile in order to make it easier for my devoted masses to follow me there? Because instagram sure hasn't made it easy to figure out. You may just have to type out my username in the search box, and you've already lost me because so.much.work.
And so we celebrate the purchase of a new camera with a photo of Hazelnut, the Worst Pet on Earth*. I'm back baby!
*pees on bed, pees on floor, pees on couch, sleeps 22.5 hours a day, bites, hates the food we give her. Bitch.
When people found out we were going to India, responses fell in two camps: the always welcome "Sounds like an amazing time!" and the much more prevalent "Oh, I have no desire to go to India." At first this was amusing (I expected it) but it wasn't long before I was responding with a poorly masked THANK YOU FOR YOUR COMMENT stinkface. Your disinterest in India has been registered with the appropriate parties and no one will ever gag you, tie you up and drop you on a plane straight for Kolkata. Rest easy now.
I understand that most people probably meant that in a perfect world with unlimited time and money they would find their way to India but it's not a top ten destination when you have to make choices. But some people honestly seemed horrified by the idea ("We're going to India in December." Mom: "WHY???") ((Although this was the same woman who, upon being told we're going to Barcelona, said with finality "Oh you're going to hate it.")) (((NOTE I had already been to Barcelona and felt pretty established in my opinion of it when she said that. If I could throw up my arms in exasperation any harder they would detach from my body.))) Some people were more than happy to tick off the reasons to avoid India: poverty, getting sick, dirt, poor people, getting sick. Dirt.
Let me drop the suspense for you: none of us got sick. Not even the people who disregarded known recommendations for avoiding sickness by brushing their teeth with tap water or eating raw salads. In fact, by the time day eight rolled around I started panicking about not getting sick since it clearly meant I had a tapeworm that was eating all the food I consumed. (Compared to when I went to Egypt in college, everyone in the group got sick and we were a gaunt, pallid group of sadness disembarking back in America)
But they are right about everything else. When the immigration guy back in the US asked what it was like we said it's exactly how people say it is: chaotic, dirty, poor.  It is so incredibly different.
I can't make a good argument for you to go to India. But can I make one suggestion? Do something that makes you uncomfortable. Try a new kind of food. Take up a hobby that takes time and work. Talk to a stranger while waiting in line for something. Jump out of a plane. Give a speech. Take a week off of work. Go to India.
I can't promise that nothing bad will happen but I can definitely assure you that if you do nothing, nothing wonderful will happen. As Mark Twain says, "Broad, wholesome, charitable views of men and things cannot be acquired by vegetating in one little corner of the earth all one's lifetime." You have the rest of your life to do safe, clean things with people you trust and like. So stop sitting there listing all the reasons you can't or won't do something and go out there and make it happen.
Actually, all compliments to Mr. Twain, but Jessica Hagy says it better: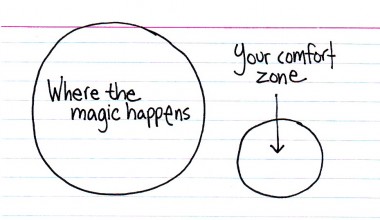 Also you should probably keep your opinions about someone else's vacation plans to yourself. That's just good manners.
Finishing out the year of tracking what I did! I'm really glad I kept up with all this stuff even if no one was interested in reading it. Also I'm dying from jet lag right now and need something to keep me awake until a respectable hour (10pm).
Read:
Watched + Star Ratings (Out of Five)
Movies on the plane: Crazy Stupid Love (****), Footloose (zero), The Help (*), One Day (slept through)
Movies in theater: Shame (****), Mission Impossible: Ghost Protocol (***)
Movies at home: Beginners (*****), Attack the Block (****), Conan O'Brien Can't Stop (***), The Trip (***)
Listened
I figured out that my favorite music genre is anything I can do a two-step shuffle to while holding a glass of wine and making dinner. So the past two months were mostly M83 and Youth Lagoon.
Ate
Highlights include Caesar salad at The Majestic, pork belly nachos at Black Jack, the half smoke at Komi, and my christmas gift from Adam, a bottle of Laphroaig.
Did
Variety of social events, Adam's 30th birthday, Thanksgiving, Christmas, going to India, jet lag.
Also while I was in India I decided this camera is going right in the trash. Know anyone who wants a DSLR with a pop-up flash that needs to be held down with electric tape?
My boyfriend took this photo with his cell phone. WHERE ARE OUR HOVERBOARDS, FUTURE!?
postscript: Given that Winnie was adopted into a family with an english basement apartment, she's not accustomed to bright sunlight. She's been in a permanent state of agitation for the last four months but at least she's no longer confused about the time of day/night.
I bet you were wondering what type of asshole takes photos of everything they eat and the answer is me! I'm the asshole!
Maybe one day I'll post something with actual substance but until then here are some (a lot of) photos of food I ate in Spain.
Padron peppers are very Spanish – flash fried little mini peppers with the perfect amount of heat for snacking. So delicious I bought some padron pepper seeds for next summer already. And in the background some steak tartare for good measure.
Smoked salmon tapas.
This was a great pintxos bar in Bilbao. I think our bill came to about 40€ which sounds like a lot until I tell you we had 11 glasses of wine and about 16 pintxos. Based on my observation we ate enough for six Spaniards. Typical Americans!
Sardines, a sliver of roasted red pepper and a light salsa on top. This is a very typical pintxo. Pintxos are not tapas! Tapas can be hot. All pintxos are tapas but not all tapas are pintxos. Pintxos are typically held together with a toothpick and scattered all over the bar like a bunch of jewels in Aladdin's cave. More spanish terms! Montaditos and bocadillos are types of pintxos. Montaditos: open faced sandwich (pretty much a pintxo without the toothpick) and bocadillos: mini sandwiches.
I see blue cheese, red pepper jelly, a slab of goat cheese, a slice of fried zucchini and a bocadillo with tuna salad.
This might come as a surprise but this was our favorite pintxo of the entire trip: a roasted red pepper stuffed with tuna salad on a piece of bread. I have no idea what the Spanish put in their tuna salad – I suspect cocaine – but it was seriously the greatest thing I ever ate. I actually think their seafood salads are more vinegar based as this was pretty sharp in flavor. Add lots of raw garlic, the sweetness from the roasted red pepper and superior olive oil and a toasted slice of baguette? Nirvana.
Smoked butter from our Michelin starred dining experience. We didn't know if we were supposed to eat it on its own or on bread so we did it half and half. Superb.
Scrimps! Gambas a la plancha, the freshest sweetest shrimp I've ever had.
Jamon Iberico. Pretty obligatory. Like buttah.
Some pastries at a local bombaria in San Sebastian.
We had some of my favorite pintxos in Hondarribia, a small town on the border of Spain and France. This is one encased in puff pastry, the inside was a sort of bechamel ham gravy sauce, and on top some sliced cheese, jamon and balsamic vinegar.
A snack of sardines and anchovies, served with garlic and bread. I want to eat this right now.
In San Sebastian we ate at one place that did slow-cooked meats exceptionally well. This is their suckling pig and what isn't shown is when Boy and I had to restrain ourselves from licking the plate afterwards. Goal this winter: get really good at braising.
A madrileno breakfast.
This from the one restaurant we went to that could be considered "molecular gastronomy." I forgot what this was supposed to taste like but it was a creamy fatty crunchy fatty combination of awesome.
The seafood looked like gems! Langostinos are really big in Barcelona. Best I can tell they're like crawfish? Prawns? Delicious shellfish thingies?

Beautiful angulas. I'm sorry we didn't get to eat them but I don't think they're in season yet. The only time I saw them were at this market which I guess means they were imported.
Razor clams.
I think it goes without saying that if you don't do seafood you'll miss out on some crazy amazing food in Spain. But if you're feeling adventurous: their sardines are incredibly mild and delicious. Perfect gateway seafood, especially when fried.
I was really surprised that I'd never heard of bombas before eating in Spain. I even went so far as to check the menus at local Spanish restaurants to see if I'd just missed them but nope. Anyway these are a sort of fried mashed potato-meatball (ya heard me) covered in aioli and romesco sauce which basically makes them THE MOST AWESOME THING EVER. I wonder if chefs thought maybe it would come off as too "American bar food" but who cares GIVE ME BOMBAS.
Ugh I'm exhausted, the posts I've started and abandoned were total amateur hour (and for me that's saying a lot), I got back from my run to discover that the potato I put in the oven beforehand was still hard as a rock a good hour and a half later, and I still need to pack for Chicago. Here's a picture I took of an adorable cat at our guesthouse in Fez when Boy and I went to Morocco a couple years ago.
You've probably seen these photos taken a million different ways but all of us could use a burst of colors, lights and lines on a blah Monday morning. It's impossible to take bad pictures of Gaudi works but I sure did my damnedest.
I could post a long slideshow and a multi-paragraph blow-by-blow of my recent vacation to Spain but I think we can all agree that's terrifically boring.  So since everything in life can be illustrated with a GIF, I think this one captures the spirit of the trip nicely:
Sipping some sort of rose on Monte Igueldo, overlooking the Bay of Biscay in San Sebastian, Spain.  I think that does it for the Spain coverage here.
HAHAHA just kidding. November is 30 days long! Expect at least another quarter of the rest of the posts devoted to Spain. Because, let's be honest: I got nothing going on.