Travel
Japan! I went there and looked at some stuff and ate some things and purchased some doodads. What was this, last week or something, right? It was totally last week. I'm not writing about a trip that happened 3-4 months ago, no sir.
We have this sick, horrible, awful, filthy habit of planning our next trip while we're currently on a vacation. At some point during our time in India we were winding down from a long day, sucking down the local firewater, and contemplating our trip. This always leads to the next logical step: Where should we go next? Never has an answer come so easy while sitting in the chaos of India: Japan. Orderly. Clean. They worship toilets. It was almost the exact opposite of where we were and we had to go there as soon as possible.
I was born in Japan and even though I can't remember it (moved when I was months old) and haven't been back since, being born there meant any of its exoticism was lost on me at an early age. Anyone can come from Japan, duh. When I started researching for our trip this past fall it occurred to me that I should've been screaming my head off to go to Japan for a while now. By all accounts, the Japanese adore whisky, cute things, punctuality and they invented sushi. My people. Like coming home again.
Thusly, my five favorite things about Japan.
1. Drinking. I don't have a snap of them but we visited several amazing whisky bars, all staffed by passionate individuals well-versed in Japanese and European whiskies (bourbon need not apply, alas). We sampled the growing craft beer scene in Tokyo. But this neat sake bar in Kyoto topped it all. The guy poured and poured and we drank and drank. He taught us all about the various styles and we promptly forgot everything in a sea of nihonshu.
2. Cute Things are like gods. I mean look at this white fluffy thing! I don't even know what it is and I briefly debated putting money in to get a chance to win it. And wouldn't you want to go white water rafting with such an adorable critter as your guide? I know when I think of adventure travel I think: cat wearing a green hat. Or duck. It's a cat right?
I knew I was going to get some sort of stuffed animal, probably Totoro, but I had no idea what I was in for. Whole stores devoted to individual characters like Rilakuma, Hello Kitty's heir to the cute throne. If you spent a certain amount of money in a convenience store chain you could select from a number of Rilakuma merchandise for free and the only reason I don't have that Rilakuma plastic mug right now is because I couldn't read the Japanese text describing the exact process. Bummer.
Anyway after much deliberation I purchased a small hamster-looking thing called a Kapibarasan and it took me several days to realize that it was supposed to resemble a capybara, hence "Mr. Capybara." HOW AWESOME IS THAT. Naturally I started buying Kapibarasan wherever I could find him, the low point probably being the Kapibarasan-Orix Buffaloes themed bandaids, a real thing that exists that I now own.  I refrained myself from buying Mr. Capybara a sailor outfit because Adam was standing right there and I have some shame.
3. Queuing. The Japanese are monster queuers. I love a good queue.
This is the only civilized way to wait for the train.
4. Everything works. You can't come back from a country with an infrastructure like Japan and be singing "America Fuck Yeah." It's impossible. We're a mess. WE CAN'T EVEN QUEUE RIGHT.
5. Ramen.
When you write out a list of things you really like you run out of ways to express your joy. RAMEN IS THE BEST THING.
This is tsukemen which features a very salty, strong flavored broth that you dip the noodles into. It's got a kind of funky fish thing going on and it is my love.
Let's go back!
Oh balls. I set an auto publish for my previous post on India even though I hated that post and intended to change it and them promptly forgot. So consider this my apology for my incoherent rambling (Did I do the thing where I start to write out a line then intend to go back and finish it and didn't? I'm too scared to look). It's no wonder I've won awards for my blogging.
Anyway here's a photo of what happens to your car in Delhi when your parking meter expires.
When people found out we were going to India, responses fell in two camps: the always welcome "Sounds like an amazing time!" and the much more prevalent "Oh, I have no desire to go to India." At first this was amusing (I expected it) but it wasn't long before I was responding with a poorly masked THANK YOU FOR YOUR COMMENT stinkface. Your disinterest in India has been registered with the appropriate parties and no one will ever gag you, tie you up and drop you on a plane straight for Kolkata. Rest easy now.
I understand that most people probably meant that in a perfect world with unlimited time and money they would find their way to India but it's not a top ten destination when you have to make choices. But some people honestly seemed horrified by the idea ("We're going to India in December." Mom: "WHY???") ((Although this was the same woman who, upon being told we're going to Barcelona, said with finality "Oh you're going to hate it.")) (((NOTE I had already been to Barcelona and felt pretty established in my opinion of it when she said that. If I could throw up my arms in exasperation any harder they would detach from my body.))) Some people were more than happy to tick off the reasons to avoid India: poverty, getting sick, dirt, poor people, getting sick. Dirt.
Let me drop the suspense for you: none of us got sick. Not even the people who disregarded known recommendations for avoiding sickness by brushing their teeth with tap water or eating raw salads. In fact, by the time day eight rolled around I started panicking about not getting sick since it clearly meant I had a tapeworm that was eating all the food I consumed. (Compared to when I went to Egypt in college, everyone in the group got sick and we were a gaunt, pallid group of sadness disembarking back in America)
But they are right about everything else. When the immigration guy back in the US asked what it was like we said it's exactly how people say it is: chaotic, dirty, poor.  It is so incredibly different.
I can't make a good argument for you to go to India. But can I make one suggestion? Do something that makes you uncomfortable. Try a new kind of food. Take up a hobby that takes time and work. Talk to a stranger while waiting in line for something. Jump out of a plane. Give a speech. Take a week off of work. Go to India.
I can't promise that nothing bad will happen but I can definitely assure you that if you do nothing, nothing wonderful will happen. As Mark Twain says, "Broad, wholesome, charitable views of men and things cannot be acquired by vegetating in one little corner of the earth all one's lifetime." You have the rest of your life to do safe, clean things with people you trust and like. So stop sitting there listing all the reasons you can't or won't do something and go out there and make it happen.
Actually, all compliments to Mr. Twain, but Jessica Hagy says it better: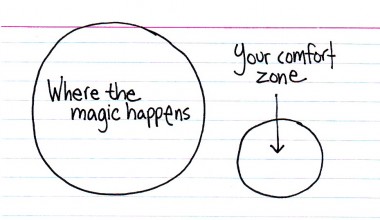 Also you should probably keep your opinions about someone else's vacation plans to yourself. That's just good manners.
Finishing out the year of tracking what I did! I'm really glad I kept up with all this stuff even if no one was interested in reading it. Also I'm dying from jet lag right now and need something to keep me awake until a respectable hour (10pm).
Read:
Watched + Star Ratings (Out of Five)
Movies on the plane: Crazy Stupid Love (****), Footloose (zero), The Help (*), One Day (slept through)
Movies in theater: Shame (****), Mission Impossible: Ghost Protocol (***)
Movies at home: Beginners (*****), Attack the Block (****), Conan O'Brien Can't Stop (***), The Trip (***)
Listened
I figured out that my favorite music genre is anything I can do a two-step shuffle to while holding a glass of wine and making dinner. So the past two months were mostly M83 and Youth Lagoon.
Ate
Highlights include Caesar salad at The Majestic, pork belly nachos at Black Jack, the half smoke at Komi, and my christmas gift from Adam, a bottle of Laphroaig.
Did
Variety of social events, Adam's 30th birthday, Thanksgiving, Christmas, going to India, jet lag.
Also while I was in India I decided this camera is going right in the trash. Know anyone who wants a DSLR with a pop-up flash that needs to be held down with electric tape?
I probably shouldn't share this but Adam had a lot of anxiety about scuba. I didn't really think much about it before we left for our trip – I spent the three weeks beforehand wrapping up things at my lovely job so that I could start a new job when we got back – and coupled with doing online scuba courses at night I didn't have time to become concerned. Plus we'd done it before and it was a ton of fun and I honestly I don't remember much of it. There were fish! And water and stuff. I could breathe underwater. Technical looking doodad stuff. That was scuba.
It wasn't until I woke up gasping at 1am the morning we were to go out for our first oceans dives that I became really honest with myself about how terrified I was. Down below sixty feet of water with a tank of air strapped to my back? Was I insane? What did I get us into? So since this whole ordeal was pretty much my fault, I spent that morning quietly stoic while Adam repeatedly expressed concerns about this new hobby's effect on our life span.
As a gut reaction, I can't recommend scuba to anyone. It takes a certain kind of insanity to think there's something fun about going down 100ft of open water. If you think taking off your mask at the bottom of the ocean while breathing air that never ever feels like you're getting a full breath and sharks are swimming circles around you and your instructor sounds a little stressful  (and, oh, by-the-by, if you do freak out you can't just shoot up to the surface thanks to the effects of breathing compressed air can have on your body), then scuba is not for you.
Some tasks require you to take your breathing regulator out of your mouth and when you do there's always the big deep breath you take beforehand, followed by the slow release of air to prevent lung over-expansion. This slow deliberate exhaling reminds me of yoga's discipline of the mind and body. That is what scuba taught me: panic control. Learning to ignore that little voice in my head that is telling you to freak out. Stop, breathe, think about the steps you need to take to get through this tiny little ordeal, and then do them very thoughtfully and deliberately.
So yeah now I know how to set up scuba gear and prepare my body for the pressure of 60ft of water and even some science-y ocean-related stuff. But learning to control knee-jerk hysteria is a technique I will use forever; it certainly came in handy a couple times the first few days at my new job this week.
It can be easy to assume that a person can be more obsessed with the check mark on their life list than the experience of getting it accomplished. And while scuba is really – truly, I'm not playing – a lot of fun, I got so much more out of it than just being able to say I swam with sharks (MOTHER EFFIN SHARKS DUDE!). The life list is about life lessons! Learning, doing new things, expanding the mind, Oprah stuff, etc.
Anyway I got an awesome beach vacation out of it. And this cool ("cool") card.
Also MOTHER EFFIN SHARKS DUDE!
(Oh, Adam is fine and totally on board now too. Wreck diving here we come!)
Unlike last year there really wasn't much to report this year. I graduated with my master's last December which means I spent this year….ummmm. You know. Relaxing? Anyway, here's what I did this year, all remembered thanks to Google Calendar and a browse through my flickr snaps.
January: Hmmm. I saw a lot of movies and went to a lot of dinners. And the eye doctor again! Gotta hit up the eye doctor. AND I GOT A HAIRCUT.
February: A lot more dinners and…the Super Bowl? OH! It snowed a ton! And I watched five seasons of Lost in 10 days and went crazy. Good times.
March: SXGR! If you don't know what that is, just imagine something awesome that involves a lot of liquor. That's what it was. Also I visited grandma in Florida with my boyfriend for the first time! It's the closest Grandma will ever see me married so she was tickled. Also, my boyfriend also got his tonsils out, bless his heart.
April: Poor Gummi Bear passed on to the big hamster cage in the sky, to be replaced by the fattest tub of goo alive. Otherwise not a very eventful month. I signed up for the Cherry Blossom ten miler…and then sold the bib. I noted on my calendar TWICE that Target was debuting designer collaborations that month. Can't forget that! Very important.
May: Now we're talking! I went to Farm Day at Smith Meadows Farms in Berryville, VA which is everything I love: cute animals that are edible AND raised humanely. They turned the critters into awesome BBQ and I ate pounds of them. POUNDS. Also the Boy and I went out west to Portland, OR and San Diego, CA. I was severely drunk for 40% of that trip. And I saw the San Diego Zoo! They have koalas!
June: A lot of BBQs for various peoples' birthdays/graduations, lots of dinners out (so that's where all my money goes) and I had a birthday.
July: I GOT ANOTHER HAIRCUT. And um…Fourth of July, something something. Hot.
August: Once again I ate out a lot. And I went back to visit Grandma in Tampa! My life is a whirlwind of activity and excitement.
September: I saw Lady Gaga in concert (FLOOR SEATS) and celebrated Yom Kippur & Rosh Hashannah with the Boy's family and went out for dinner some more.
October: Finally something of note! I went to Spain with the Boy, we hit up Barcelona, Bilbao, San Sebastian and Madrid. And it was amazing. He's already tried to convince me to go back but I think we need to visit another continent next  /white whine.
OH WAIT. October isn't done yet! First we had another alcohol-fueld SXGR. Then, before we left for Spain I scored tickets to the Daily Show taping in DC in late October and somehow managed to snag the day Obama showed up. That was pretty thrilling. The Daily Show rally on the mall was fun too.
November: I took my boyfriend to Chicago for his birthday where we consumed various meats and hopped-based liquids. (There are no photos of Chicago ready in time for this newsletter because I suck at life.) Naturally after all that fun I needed to spend November sleeping. I also got back into running, ran a turkey trot on Thanksgiving and made awesome pumpkin cheesecake.
December: I procrastinated on buying Christmas gifts and started training for a half marathon which consumed my life. I visited a friend in NYC and smoked cigars and ate pastrami. It snowed and I whined about it.
A solid year. Meanwhile I have big plans for 2011. BIG PLANS. No spoilers though! Stay tuned.
I bet you were wondering what type of asshole takes photos of everything they eat and the answer is me! I'm the asshole!
Maybe one day I'll post something with actual substance but until then here are some (a lot of) photos of food I ate in Spain.
Padron peppers are very Spanish – flash fried little mini peppers with the perfect amount of heat for snacking. So delicious I bought some padron pepper seeds for next summer already. And in the background some steak tartare for good measure.
Smoked salmon tapas.
This was a great pintxos bar in Bilbao. I think our bill came to about 40€ which sounds like a lot until I tell you we had 11 glasses of wine and about 16 pintxos. Based on my observation we ate enough for six Spaniards. Typical Americans!
Sardines, a sliver of roasted red pepper and a light salsa on top. This is a very typical pintxo. Pintxos are not tapas! Tapas can be hot. All pintxos are tapas but not all tapas are pintxos. Pintxos are typically held together with a toothpick and scattered all over the bar like a bunch of jewels in Aladdin's cave. More spanish terms! Montaditos and bocadillos are types of pintxos. Montaditos: open faced sandwich (pretty much a pintxo without the toothpick) and bocadillos: mini sandwiches.
I see blue cheese, red pepper jelly, a slab of goat cheese, a slice of fried zucchini and a bocadillo with tuna salad.
This might come as a surprise but this was our favorite pintxo of the entire trip: a roasted red pepper stuffed with tuna salad on a piece of bread. I have no idea what the Spanish put in their tuna salad – I suspect cocaine – but it was seriously the greatest thing I ever ate. I actually think their seafood salads are more vinegar based as this was pretty sharp in flavor. Add lots of raw garlic, the sweetness from the roasted red pepper and superior olive oil and a toasted slice of baguette? Nirvana.
Smoked butter from our Michelin starred dining experience. We didn't know if we were supposed to eat it on its own or on bread so we did it half and half. Superb.
Scrimps! Gambas a la plancha, the freshest sweetest shrimp I've ever had.
Jamon Iberico. Pretty obligatory. Like buttah.
Some pastries at a local bombaria in San Sebastian.
We had some of my favorite pintxos in Hondarribia, a small town on the border of Spain and France. This is one encased in puff pastry, the inside was a sort of bechamel ham gravy sauce, and on top some sliced cheese, jamon and balsamic vinegar.
A snack of sardines and anchovies, served with garlic and bread. I want to eat this right now.
In San Sebastian we ate at one place that did slow-cooked meats exceptionally well. This is their suckling pig and what isn't shown is when Boy and I had to restrain ourselves from licking the plate afterwards. Goal this winter: get really good at braising.
A madrileno breakfast.
This from the one restaurant we went to that could be considered "molecular gastronomy." I forgot what this was supposed to taste like but it was a creamy fatty crunchy fatty combination of awesome.
The seafood looked like gems! Langostinos are really big in Barcelona. Best I can tell they're like crawfish? Prawns? Delicious shellfish thingies?

Beautiful angulas. I'm sorry we didn't get to eat them but I don't think they're in season yet. The only time I saw them were at this market which I guess means they were imported.
Razor clams.
I think it goes without saying that if you don't do seafood you'll miss out on some crazy amazing food in Spain. But if you're feeling adventurous: their sardines are incredibly mild and delicious. Perfect gateway seafood, especially when fried.
I was really surprised that I'd never heard of bombas before eating in Spain. I even went so far as to check the menus at local Spanish restaurants to see if I'd just missed them but nope. Anyway these are a sort of fried mashed potato-meatball (ya heard me) covered in aioli and romesco sauce which basically makes them THE MOST AWESOME THING EVER. I wonder if chefs thought maybe it would come off as too "American bar food" but who cares GIVE ME BOMBAS.